At Universal Plastic Surgery, we offer abdominoplasty, also known as a tummy tuck, to help you achieve a flatter and more toned abdomen. This procedure is designed to remove excess skin and fat from the abdominal area and tighten the underlying muscles, resulting in a smoother and more sculpted appearance.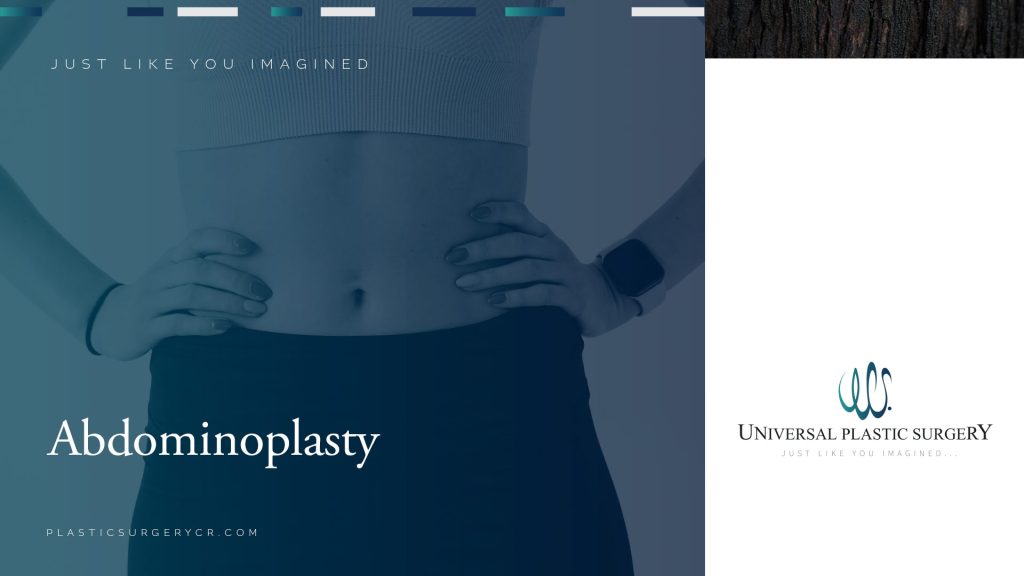 The abdominoplasty procedure at Universal Plastic Surgery is performed by our experienced plastic surgeons, Dr. Carlos A. Centeno and Dr. Madelein Centeno. They take a personalized approach to each patient, understanding that every individual has unique goals, challenges and concerns.
Consultation
During your consultation, they will assess your abdomen and discuss your desired outcomes to create a customized surgical plan that addresses your specific needs.
At Universal Plastic Surgery, we prioritize your safety and comfort throughout the entire abdominoplasty process. The procedure is performed under general anesthesia to ensure that you are completely relaxed and free from any pain or discomfort.
Our plastic surgeons use advanced surgical techniques to minimize scarring and achieve natural-looking results. The recovery period after abdominoplasty can vary depending on the extent of the surgery, but our team will provide you with detailed pre and post-operative instructions and support to ensure a smooth recovery.
We are dedicated to helping you achieve your desired results and make your journey to a flatter abdomen a positive and empowering experience.
Benefits of a Tummy Tuck - Video
FAQs about Abdominoplasty at Universal Plastic Surgery
Q: What is abdominoplasty?
A: Abdominoplasty, commonly known as a tummy tuck, is a surgical procedure designed to remove excess skin and fat from the abdomen while tightening the abdominal muscles. This procedure ranks third most popular among the procedures that our patients seek. It can help create a flatter, firmer, and more sculpted abdominal profile.
Q: Who is a good candidate for abdominoplasty?
A: Good candidates for abdominoplasty are generally individuals who have excess abdominal skin and fat that hasn't responded to diet and exercise. It is also suitable for women who have undergone multiple pregnancies and individuals who have experienced significant weight loss.
Q: What should I expect during the abdominoplasty consultation?
A: During the consultation, you will meet with either Dr. Carlos Centeno, M.D. or Dr. Madelein Centeno, M.D., who will evaluate your specific concerns and goals. They will examine your abdomen, discuss your medical history, and determine if you are a good candidate for the surgery. You will have the opportunity to ask any questions you may have and learn more about the procedure, recovery process and all the necessary steps for the surgery if you are coming from abroad.
Q: How long does the abdominoplasty procedure take?
A: The duration of the procedure can vary depending on the extent of the surgery and any additional procedures performed simultaneously. On average, the surgery takes between two to five hours to complete.
Q: What is the recovery process like after abdominoplasty?
A: After the surgery, you can expect some discomfort, swelling, and bruising in the abdominal area. You will need to wear a compression garment to support the healing process. Our team will provide detailed instructions on caring for the incisions, taking pain medication, and gradually resuming normal activities. It is essential to follow the post-operative instructions for optimal results. We believe that being fully informed about your surgical procedure also will help understand the normal discomforts and manage them appropriately.
Q: Will there be scars after abdominoplasty?
A: Yes, there will be scarring after an abdominoplasty procedure. However, our surgeons take great care to place the incisions strategically, often within the bikini line, to ensure they are discreet and easily concealed. Over time, the scars will fade and become less noticeable.
Q: Does abdominoplasty address stretch marks?
A: Abdominoplasty can remove stretch marks located on the lower abdomen. However, it cannot eliminate stretch marks on the upper abdomen or other areas not directly affected by the surgery. Dr. Carlos Centeno and Dr. Madelein Centeno, will discuss your specific concerns during your consultation.
Q: How much does abdominoplasty cost at Universal Plastic Surgery?
A: The cost of abdominoplasty can vary based on factors such as the complexity of the procedure, the surgeon's fees, anesthesia fees, and facility fees. For accurate pricing information, we recommend scheduling a consultation with Dr. Madelein Centeno to assess your needs and provide a personalized quote. If you are located abroad, we currently offer a complimentary virtual conference call option to discuss your goals and to define your final fee structure. Please contact us today for more information.
Q: Is abdominoplasty safe?
A: Abdominoplasty is generally considered safe when performed by skilled and experienced plastic surgeons like Dr. Carlos Centeno or Dr. Madelein Centeno. However, as with any surgical procedure, there are risks and potential complications. During the consultation, our surgeons will discuss these risks with you and ensure that you are well-informed before making a decision.
Q: Can I combine abdominoplasty with other procedures?
A: Yes, abdominoplasty can be combined with other procedures such as liposuction, breast augmentation, or a lower body lift to achieve more comprehensive results. Our surgeons will evaluate your aesthetic goals and recommend the best options for you based on your individual circumstances.