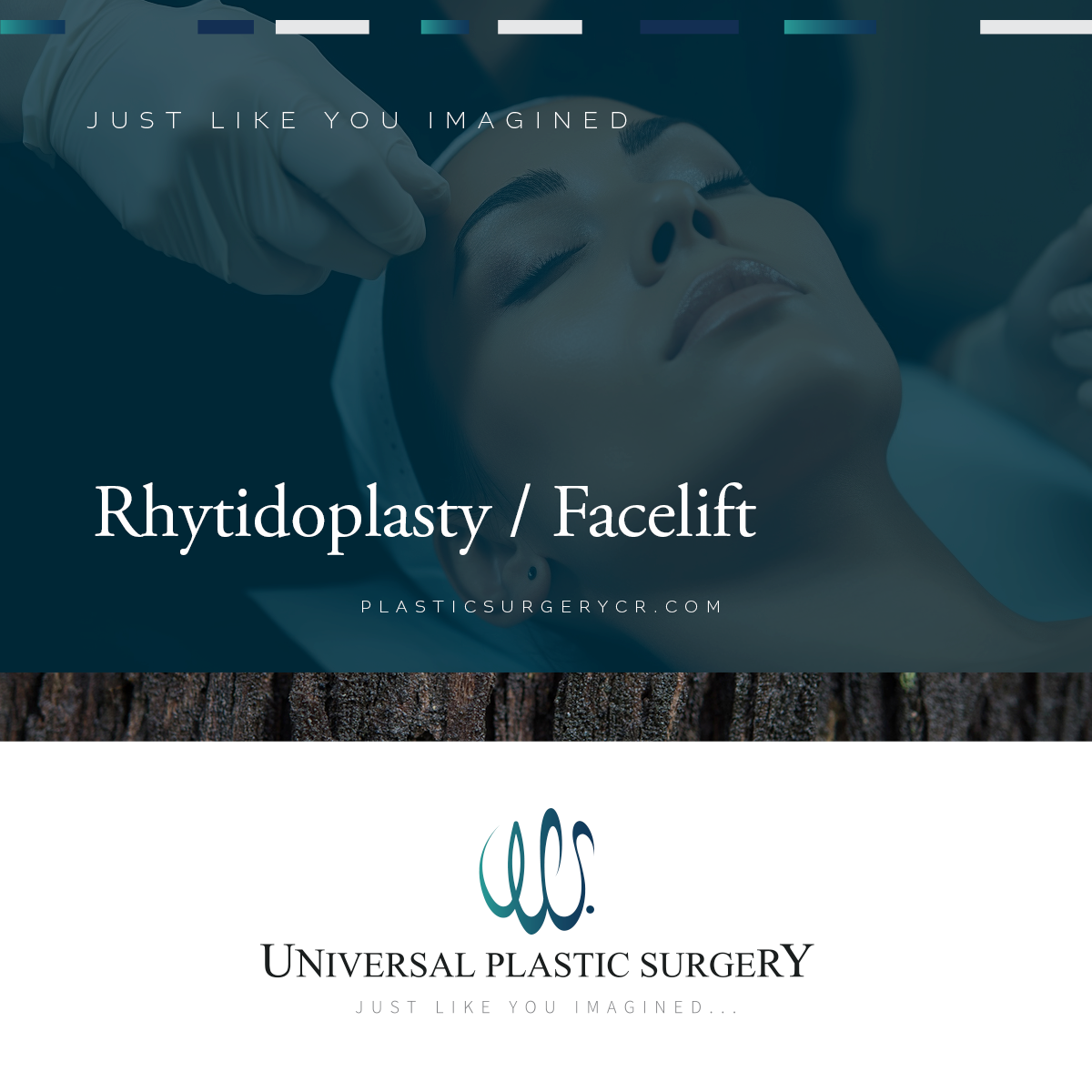 The Benefits of a Face Lift
Are you looking for a way to turn back the hands of time and achieve a more youthful appearance? Look no further than a face lift. This transformative procedure, also known as rhytidoplasty or rhytidectomy, can remove wrinkles, sagging skin, and fatty deposits on the face and neck, giving you a rejuvenated and refreshed look.
Rhytidoplasty:
"Rhytid-" comes from the Greek word for "wrinkle."
"-plasty" means "molding" or "forming."
"Rhytidoplasty" translates to "reshaping or remodeling of wrinkles."
This term is often used interchangeably with rhytidectomy, but it may imply at times a broader range of surgical procedures to reshape or remodel the face.
At Universal Plastic Surgery in Costa Rica, we specialize in providing exceptional face lift procedures that can help you achieve your desired results. Here are some of the key benefits of choosing a face lift:
Youthful Appearance: A face lift can effectively tighten loose skin and muscles, resulting in a more youthful and vibrant appearance.
Improved Confidence: By addressing your concerns and enhancing your facial features, a face lift can boost your self-esteem and confidence.
Long-Lasting Results: While the aging process is natural and ongoing, the results of a face lift can last for many years, allowing you to enjoy your rejuvenated look for a long time.
Why Choose Universal Plastic Surgery?
When it comes to something as important as your appearance and well-being, you want to ensure that you choose a trusted and reputable plastic surgery clinic. Here's why a face lift at Universal Plastic Surgery in Costa Rica is your best choice:
Experience and Expertise: Our plastic surgeons, Dr. Carlos A. Centeno and Dr. Madelein Centeno, have years of experience and are renowned for their expertise in performing facial plastic surgery procedures, including rhytidoplasty.
Personalized Approach: We believe in providing personalized care to our patients. From your initial consultation to post-operative follow-ups, we will be with you every step of the way, ensuring that your unique needs and goals are met.
Comprehensive Patient Portal: Our patient portal is a valuable resource that provides detailed information about the face lift procedure, including costs, benefits, recovery time, and more. It allows you to have a better understanding of the process and make informed decisions.
Competitive Pricing: At Universal Plastic Surgery, we offer competitive pricing for all our procedures, including face lifts. Please consult with us for specific pricing details.
Prime Location: Our clinic is located in the beautiful city of San Jose, Costa Rica. Known for its stunning landscapes and warm hospitality, Costa Rica provides an ideal setting for your face lift journey.
Exceptional Patient Care: At Universal Plastic Surgery, our team is committed to providing exemplary patient care. We prioritize your comfort, safety, and satisfaction throughout the entire process.
Contact Universal Plastic Surgery Today
If you're ready to embark on your transformative journey and explore the possibilities of a rhytidoplasty or face lift, we invite you to contact Universal Plastic Surgery in Costa Rica today. Our dedicated team, led by Dr. Carlos Centeno and Dr. Madelein Centeno, is here to answer any questions you may have, discuss the procedure in detail, and guide you towards making the best decision for your needs.
We understand that making the decision to undergo a face lift can be overwhelming, but we're here to support you every step of the way. Contact us today to schedule a free consultation and take the first step towards achieving the youthful and vibrant appearance you've always desired.
Don't wait any longer. Contact us today and let us help you become the best version of yourself!